Cesc Fábregas. Alexis Sánchez. Nuri Sahin. Hamit Altintop. Radamel Falcao García.
Big names. Big money. High profile.
Of course these players were supposed to make a difference in their respective clubs. Some have made huge contributions, some have made very little ones, some are still waiting to play.
Amid the blindness that most media types have as they only say that Real Madrid and Barcelona are the only two topics worthy of even being muttered by footballing lips and TopBet Sportsbooks, there is one story that many forget to tell time and time again.
All of these names have been blinded by what one man has done this season. Miguel Pérez Cuesta did not come from one of the top sides in Europe. He was not lauded by trophies and constant headlines showering his every move by media outlets near and far.
No, this young man was not a player that saw his good fortunes come easily as he was in a high-profile team. No, his story is quite the opposite. His first steps in the football world were taken at his local club in Asturias at the same time that his beloved Oviedo was taking their first step in the third division. His arrival was not the smoothest as he had to waiting for two courts to give the Madrid side the thumbs up to buy the player.
Michu obviously wasn't in the middle of the hurricane, he was one of the objects swirling around in a club that was staring down the cliff and seeing oblivion. In Oviedo's case, it is not just about relegation anymore. Oblivion is a term that would be light if you compare it to the other options that stares them in the face right now- dissolution. The club is in the worst financial crisis it has ever seen and they recently went as far as looking to reduce their capital by 60% in an effort to avoid the dreaded "D" word.
As you can see Michu's departure from one financial chaos led him to the financial chaos of another dimension upon his arrival to Rayo. It was not as ballyhooed as the names that I mentioned at the beginning of the article. This production has been nothing short of impressive. His name was one of many that were coming in to fill a roster and fight to stay in the top flight. Rayo was a team coming into the season facing the true realities of Spanish football and not the bubble that the top two sides currently enjoy.
Of course his numbers aren't as gaudy as Cristiano Ronaldo and Lionel Messi's, yet they are astronomical in their own sense. If I were to play devil's advocate you could easily say that it is very easy to score at the pace that the two best players on the planet are scoring at based solely on the respective supporting casts around them. If you look at the leader table for leading providers in the league and youll understand Lionel and Cristiano both play at present with eight of the leagues top 12 providers in the game. They also find themselves intermingled in that list as well. This is part of the reason as well as that seven of the top 20 goalscorers in Spain come from the League of Two.
Michu might have scored 13 (0.54 g/g) goals so far, but let's look at what is around him. He's done this in only 24 matches. Many might think that this is disrespecting Rayo Vallecano, actually it is a compliment as they have shown their mettle and fighting spirit as a group. Michu simply embodies on the pitch as well as as on the statsheet this enthusiasm of comradeship.
In fact it is a testament to what the team has been able to do despite having a payroll that equals what Real Madrid paid Borussia Dortmund for Nuri Sahin. I guess you can say that this money was well spent.
Rayo are playing some of the most entertaining ball in all of Spain and not the most optimistic Franjirojo fan even dreamed of seeing their side fight for a European Cup spot.
His goals were only eclipsed by Falcao García's mark so far in his maiden voyage on the opposite side of the Iberian peninsula but they are so much more impressive nonetheless. He's just one goal away from equaling Guilherme, Daniel Aquino and Anton Polster as the third highest single season goal output for a player in Rayo history.
If his scoring pace continues, he would easily surpass the mark set over 32 years ago by Uruguayan striker Fernando Morena with 20 goals.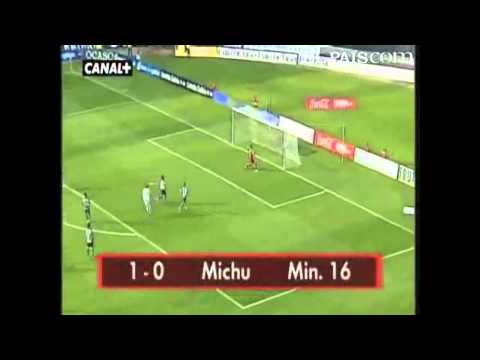 Oh, did I mention that among the top 20 goalscorers in Spain, only three are not forwards? Did I also mention that Michu is not a forward?
No one would have imagined that the best acquisition of that summer transfer market have a price tag that even the richest of magnates would love- free. I guess sometimes the best things in life do come free. At least Rayo Vallecano fans have to be thinking that right now.